A surgical technologist job is to ensure that equipment is functioning as well as the operating environment remains sterile and hygienic. They work under the supervision of a surgeon and they look after the patient's safety during the operative procedure.
One of the major responsibilities of a surgical technologist is to monitor operating room environment sterility for the doctors and nurses to perform their operative duties. They are a part of the operating room team of doctors, anesthesiologist, and nurses.
Also, the have function and responsibilities in preparing for procedures. Apart from preparing the operating room before a surgical procedure by procuring and arranging sterile instruments for the surgeon, they also have to set up surgical instruments and machines, and prepare the operation room and robotic equipment for the doctor, during surgery.
On pre-surgery preparation, a surgical technologist needs to prepare a patient before the surgery, by giving him post-operative instructions, disinfecting incision sites and collecting samples for laboratory inspections.
They also have duties in support for surgical procedures such as caring for the patient during surgery by monitoring vital signs and the surgical procedure itself.
Surgical technicians usually work in hospitals, physician's clinics and employed with ambulance services.
Salary Data
According to the Bureau of Labor Statistics, the annual wages for surgical technologists is around $40,000-50,000. The mean hourly wages are $20.41.
States with the best mean salaries are in Nevada (estimated $53,990), Hawaii (estimated $52,340), Alaska (estimated $52,130), California estimated ($51,940), and Massachusetts (estimated $49,500).
States with highest concentration of jobs (per thousand) are District of Columbia (1.27), Mississippi (1.25), and Oklahoma (1.65), and Tennessee (1.56).
Growth in this industry is likely to be around 20% in the period between the years of 2010-2020.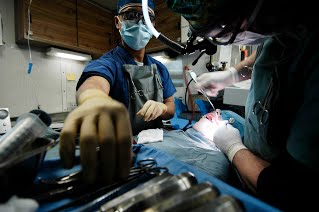 Requirements
To become a surgical technologist, one must first obtain an associate degree, from a school accredited to the Commission on Accreditation of Allied Health Education Programs (CAAHEP) or, The Accrediting Bureau of Health Education Schools (ABHES), both of which offer accreditation to schools that offer training programs for surgical technologists.
After obtaining this, a candidate can opt for national certification. This is beneficial, as a majority of hospitals across the country only hire certified technologists.
The national certification may be obtained by taking exams conducted by The National Board of Surgical Technology and Surgical Assisting (NBSTSA), which offers the Certified Surgical Technologists exam (CST). One can also go for the Tech in Surgery Certified (TS-C) examination, offered by the The National Center for Competency Testing (NCCT).
The CST certification requires a renewal every four years, while the TS-C is every 5 years.
The course consists of subjects and education on anatomy, pharmacology, sterile techniques, patient care and surgical procedures. Some hospital-based programs last for six months to one year, and are for licensed practical nurses and other health professionals with medical backgrounds.